EcoWorld begins handover of wellness-themed Eco Terraces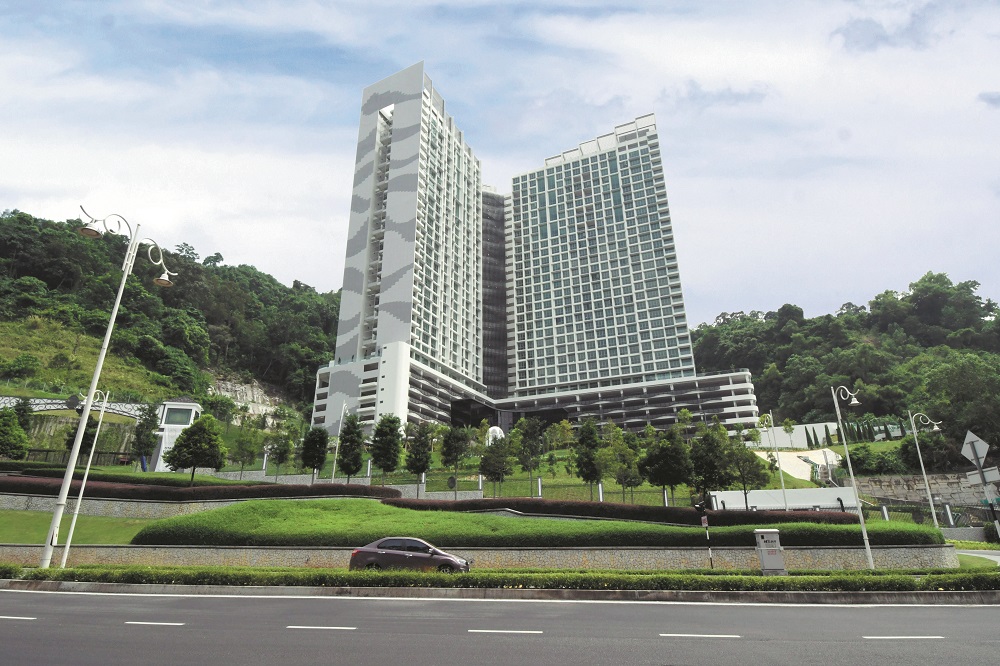 Eco Terraces is the first multi-generational wellness-themed residences in Penang. (Photos by Low Yen Yeing/EdgeProp.my)
PETALING JAYA: Eco World Development Group Bhd (EcoWorld) has started to hand over the com-pleted units at its Eco Terraces condominium project on Penang Island.
Sitting on a 12.79-acre freehold site, Eco Terraces is a condominium that houses 333 units within a 33-storey building at Jalan Paya Terubong, Paya Terubong. Residents get to enjoy a clubhouse that offers a wide array of wellness services and programmes.
With a gross development value of RM405.61 million, the project is Penang's first multi-generational wellness-themed residences and the first project by EcoWorld on Penang Island, said EcoWorld divisional general manager Chan Soo How.
"This is a project that caters to people of all ages, from toddlers to elders by providing a full range of wellness services.
"We understand that a lot of buyers have multi-generational families that include young kids and elderly parents, so we designed this project to cater to all — young, middle -aged to elderly," Chan said during a media tour of the project recently.
Launched in 2015, Eco Terraces has recorded a take-up rate of about 70%. The units have built-ups of between 1,095 sq ft and 2,008 sq ft priced at an average RM880 psf.
Chan noted that the project's wellness concept is one of its main pull factors. Buyers were mostly locals staying in the vicinity.
"There are also buyers from other states, such as Kuala Lumpur and Kedah. The wellness concept attracted many to come and buy and we have been receiving a lot of interest from both local and overseas buyers," he said.
Eco Terraces' clubhouse boasts comprehensive services including wellness, childcare and concierge. The clubhouse has a care hub that offers 24/7 nurse-on-call service and monthly doctor consultation for the residents.
There is also a multi-purpose sports hall, karaoke rooms, mini theatre and golf simulation room.
The nurse-on-call service is a collaboration between EcoWorld and home nursing service provider Lifeline, to offer services such as first aid; blood pressure, blood sugar and cholesterol monitoring; and medical assistance during emergencies.
A certified nurse will be stationed at the clubhouse during the day and then switch to a designated centre located on the eighth floor of the condominium at night. This is to ensure that in the event of an emergency, the nurse will be able to attend to the situation as soon as possible, rather than having to rush over from the clubhouse, which is a separate building, explained Chan.
"The care hub aims to help those who find it difficult to take care of their elderly parents for example, due to financial or time constraints. It can act as the first line of support for the residents. Depending on future demand, more nurses can be added to be stationed at the care hub," he said.
Furthermore, the residents can engage Lifeline for personalised care services, including home nursing service, post-hospitalisation care and hospice service at a chargeable rate.
Regular wellness programmes such as yoga, badminton and dance classes will be hosted at the clubhouse, he added.
To ensure the sustainability of the services, EcoWorld will continue to help the homeowners in future to handle the maintenance and management work.
"Although Eco Terraces will eventually be handed over to the MC (Management Corporation) due to the fact that it is a stratified development, we have the confidence that the owners will continue to engage us to provide management services to them, just like every other EcoWorld project," he said.
Source : The Edge Property